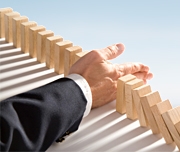 "Success comes from
"
I can", not from
"
I cannot"."
(Henry Brooks Adams, American historian and philosopher)
"Together we will succeed." We can say this with conviction, gained from the positive experiences of more than 100 projects. We are pragmatic, tailoring our approach to the needs of your company and your employees, and employing simple yet effective, state-of-the art methodology.
Thinking outside the box
Every company, every challenge and every starting situation is different. We do not offer standardized solutions. IsoPart accompanies you on your individual path to success – in three stages:
1. Listening
For us, it's not just about figures but also what's going on in your head. What are the roadblocks, the motivations, what are the challenges? How do you yourself assess the situation? Only if we understand you, can you place confidence in us. This is how we create a solid foundation for joint decisions and activities.
2. Analyzing/Planning
We objectively investigate your operating premises and make them transparent. We then give you clear and well-founded recommendations for further action; proposals that fit you and your company. Together, we define with you, concrete and measurable objectives and how they can be achieved best.
3. Acting
It is our ambition to not only show you the way forward but to also "walk the walk" with you – all the way to a successful conclusion. This is why it is important for us to accompany you throughout the entire change process – as project managers, coaches or executives.
"Quite simply, you have to be able to talk to the people."
(Lee Iacocca)