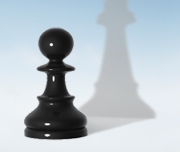 Seize opportunity. Manage risk.

If you are planning a strategic
change of direction
in your company such as:
exploring new fields of business
expanding into new markets (sales or acquisition)
acquisition and subsequent integration of companies
forming strategic alliances
investing or refinancing
succession-related issues
If you find yourself in a
turbulent period
such as:
deteriorating markets
disappearing profits
financiers' confidence crisis
company-specific challenges
Or, if you are simply looking for a "
challenging sounding board
" to review and enhance your existing structures, IsoPart is an objective strategic partner.
We jointly review decisions and plans with you. We identify opportunities and assess risks, developing tailor-made risk management strategies. We assume responsibility for our decisions and support you in implementing them through to success.